"Our mission is to enrich lives through the practice and philosophy of yoga."
Prajna Yoga, one of the best yoga training Center in Lai Chi Kok, Kowloon, started in August 2013 and Wanchai, Hong Kong in December 2021.
In Sanskrit "Prajna is used to refer to the highest and purest form of wisdom, intelligence and understanding."
By the Buddha "Prajna is direct insight into the truth taught, as a faculty required to attain enlightenment."
Yoga defined as "union between the mind, body and spirit ". It is an Essential tool for survival, as well as for expending the joy and creativity of our lives. It has its powerful techniques for creating a sense of inner peace, harmony, and clarity of mind. Yoga is the perfect way to ensure physical, mental and spiritual health.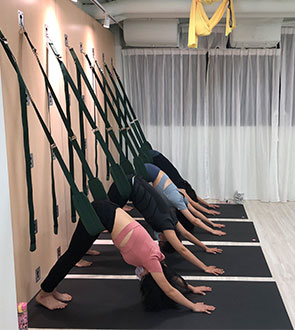 Prajna yoga is a true reflection of yoga: Healing, unifying, conscious, loving, vibrant, and transformative. We bring this spirit to every level of our business and community and manifest our vision by offering a warm and inviting space to everyone who comes through Prajna's doors. We want to share our inspiring home and encourage you to be and feel your absolute best.
Prajna Yoga provides you a clean, convenient and comfortable environment to practice yoga and explore more. We are proud to offer different types of yoga class for practitioners of all levels from beginner to the advance by qualified yoga teachers. We are a team of an inspirational and dedicated tribe of teachers, our expertise, experience, and passion shine through in the classroom.
Prajna Yoga Hong Kong Awarded as the Best Yoga Studio by World Real Yoga Alliance in 2018.
Prajna Yoga Ranked in Top 10 Best Yoga Center in Hong Kong by Compare Retreats Magazine in 2017.
Our center has the facilities of showers, lockers, rental lockers and yoga boutique. We have yoga mat (Manduka), yoga bolster, yoga belt, yoga blocks, yoga wheel, yoga towels, sutra neti and neti pot and eye pillow.
We are teaching various types of:
Yoga Classes

Workshop 

Semi Private Yoga 

Private Yoga 

Corporate Yoga 

Kids Yoga 

Pre – Postnatal Yoga
We are teaching various types of:
300hrs Advanced Hatha Yoga Teacher Training

200hrs Hatha Yoga Teacher Training

100hrs Yin Yoga Teacher Training (YACEP)

100hrs Aerial Teacher Training (YACEP)

85hrs Pre-Post Natal Teacher Training

30hrs Chair Yoga Teacher Training (YACEP)

30hrs Wheel Yoga Teacher Training (YACEP)
Certified by Yoga Alliance USA and Yoga Alliance International.
Upon your request, we can arrange tailor-made classes for teacher training or semi-private/private classes, by email: info@prajna-yoga.com