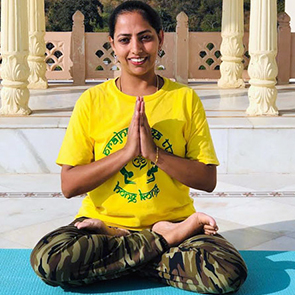 Her relationship with yoga began from childhood, as she attended yoga classes for fun .Since 1998 dedication, continues personal practice with the integration of yoga, her classes inspired from different styles of yoga, which encourages her students to recognize how their practice helps them to live more balanced, healthier and happier lives. Later to deeper her knowledge she continues her practice. She is incredibly grateful being inspired and guided by so many remarkable yogis and above all dedication, which she strongly believes is the greatest teacher of all. While exploring her yoga journey she experienced Reiki healing, this was new but very relaxing and soothing for her, she enjoyed it so much so she decided to benefit her students with Reiki healing, it can help her in her teaching.
She started teaching yoga from the year 2000 in India, her new journey in teaching yoga started when she first came to Hong Kong in year 2003.After teaching in Hong Kong for two years she moved to Malaysia and shared her yoga knowledge there, But her love for Hong Kong brought her back here in 2008 since than she never looked back. During these years she has influence many girls to become a yoga teacher and she feel this is her achievement. She feels accomplished when a new student start loving yoga because of her teaching, nothing can make her happier than a smile on her students face. She is one of the pioneer female yoga teachers who came from India and made her place in Hong Kong.
She and her husband Yoga Master Kishore Kumar started Prajna Yoga in year 2013. She founded Prajna Yoga as a way of reaching a greater scope of individuals on deeper level and knowledge of yoga. Working with her students and seeing their improvement makes her proud and happy. In her word "Teaching Yoga and helping others in achieving their physical and mental goals is the most satisfying job". And indeed, she is eternally grateful to educational experience and above all the people who helped her realizing her dream come true.
Pooja Teaches:
Hatha Yoga
Hatha Flow
Therapy
Gentle Stretch
Sivananda Yoga
Ashtanga Yoga
Iyengar Yoga
Yin Yoga
Pooja Teaches:
Yin Yang Yoga
Hot Yoga
Hot Yin
Hot Flow
Prenatal and Postnatal
200 hrs Hatha Teacher Training
85 hrs Yin Yoga Teacher Training
85 hrs Pre-Postnatal Teacher Training
Qualifications & Certifications
Hatha Yoga Teacher Training from MP, India.
Sivananda Yoga Teacher Training from Nayyar dam, Kerala, India.
Advance Sivananda Yoga Teacher Training from Nayyar dam, Kerala, India.
Iyengar Teacher Training from Delhi, India.
Ashtanga Teacher Training from Dharmshala, HP, India.
P.G. Diploma in Yoga from Tamilnadu Physical Education and Sports University.
Yin Yoga Teacher Training from Thailand.
Pre – Postnatal Teacher Training from Karnatka, India
Reiki First and Second Degree Course from Reiki Healing Foundation, Delhi, India.