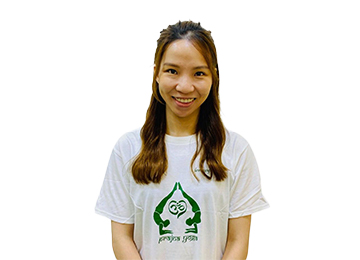 Pion is a Registered Yoga Teacher (Met the 500-hour (RYT500) Standard) of Yoga Alliance®. She started learning ballet since 6 and certified in RAD Ballet Exam – Grade 8 and Advanced 2 level. Now, she has been teaching ballet and performing in different dance schools and organizations for over 12years.
She came to Yoga by chance in 2010. This was the beginning of a journey where she could finally find a way to access the true inner peace she had been searching for. Since then, she decided to share Yoga with the world because she believes Yoga is a gift for everyone.
Since 2014, she started teaching yoga in fitness centers and yoga studio , including Fitness First, where she specified in Hatha Yoga, Core Yoga, Yoga Flow , Aerial Yoga .
At the same time, she kept going further by joining numerous yoga master workshops and professional training courses overseas ,including 500-hour Yoga Alliance Standards Certification Course (by JIVANI YOGA – UK), 80-hour Aerial Yoga Teaching Course (by Yoga First – Dubai) … etc.
Despite of physical perfection and aesthetic in Asana presentation, inner peace and self awareness achieved in Yoga practice are important to her either. She intended to go deeper through Meditation and Singing Bowl practices. So, she started her study of Sing Bowl in Nepal (2019) and ,recently under the guidance of Mr. Tsang Man-Tung she started her journey of professionals in the field of Singing Bowl therapy.
Pion Teaches:
Singing bowl sound therapy
Crystal bowl stress release