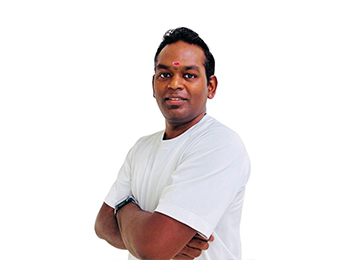 Master Kishore was suffering from back pain from the injury of his cricket practice. He tried different methods to get rid of it. Until one day, he was introduced yoga practice. After he practiced regularly for 3 months, he got relief from his pain. Since then, Master Kishore began to explore the path of yoga.
He practiced various style of yoga as Hatha, Ashtanga, Vinayasa, Iyengar and Sivananda with his Guru Vishnudas and Yoga Dron Yasudas for more than 10 years. He found Sivananda style very calming so, he went to Sivananda Ashram to gain more in-depth knowledge of it. For years, he has practiced yoga discipline and been continuously captivated by the blessings, challenges, purpose and harmony that yoga has brought to his life.
Master Kishore has gained years of teaching experience at home and overseas. After 8 years of teaching in India, including schools, Anna University (one of the top-ranking universities in Chennai, India) as well as the Spa and Resorts he dedicated himself to explore in Malaysia, Hong Kong and overseas since 2005. Moreover, he taught many Yoga Workshops and retreats in Thailand, Indonesia, Malaysia and China.
He enjoys creating an atmosphere of warmth and stillness in his personal practice, which has empowered him to motivate his students. Also, he loves to bring his experience from yoga practice and introducing the art of yoga to his students. He believes yoga is far beyond asanas practices, and therefore he brought breathing and meditation to his classes to connect body and mind.
All his classes are an experience of meditation in motion and emphasize the importance of breath awareness, good alignment, calming the monkey mind, and having FUN!! He strongly believes together in class, can explore how to turn obstacles into opportunities, keeping focus on the breath for balance and find the inner strength one may have lost under a pile of laundry.
Qualifications & Certifications
Diploma in Yoga from Tamilnadu Physical Education and Sports University.
Hatha Yoga Teacher Training from Chennai, India.
Sivananda Yoga Teacher Training from Nayyar dam, Kerala, India.
Advance Sivananda Yoga Teacher Training from Nayyar dam, Kerala, India.
Iyengar Teacher Training from Tamilnadu, India.
Ashtanga Teacher Training from Rishikesh, India.
Swing Yoga Teacher Training from Indonesia.
Unnata Aerial Yoga Teacher Training from Malaysia.
Yin Yoga Teacher Training from Thailand.
Prenatal and Postnatal Teacher Training -Rishikesh, India
Awards:
Yoga Surya Award
Beacon of Yoga Award
International Sage Patanjali Yoga Award
International Best yoga Teacher Award
He is also part of Jury for Yoga Competition in International Yoga Championship and International Sports Yoga Championship.
Kishore Teaches:
Hatha Yoga
Asana Pranayama & Meditation
Hatha Vinyasa
Sivananda Yoga
Ashtanga Yoga
Iyengar Yoga
Yin Yoga
Hot Yoga
Wall Rope Yoga
Kids Yoga
Yoga Nidra
Mindfulness Meditation
Chair Yoga
Aerial Yoga
Wheel Yoga
300 hrsAdvance HathaTeacher Training
200 hrs Hatha Teacher Training
85 hrs Aerial Yoga Teacher Training
85 hrs Yin Yoga Teacher Training
Yoga Therapy Teacher Training
Wheel Yoga Teacher Training
Hatha Vinyasa Teacher Training
Workshops Teaches:
Power of Breathing
Yin yoga
Sivananda yoga
Balance: Body and Mind
Back bending and Inversion
Headstand and its benefits
Mindfulness Meditation
Asana Pranayama and Meditation
Myofascial with Yin practice
Yoga Therapy
Back care
Yoga for Diabetic
Yoga for Heart
Yoga for Parkinson