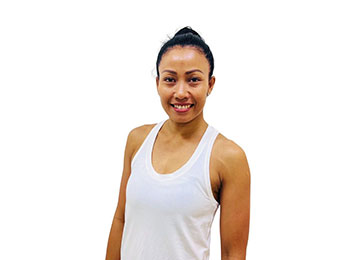 Dina has been practicing Yoga since 2012. After attending regular Yoga classes and learning more about the benefits and meaning of Yoga she came to love the physical challenge of the many poses and techniques. She felt a great sense of accomplishment and physical and mental well-being.
Dina began to study many books about Yoga on her own time in order to gain more knowledge and to learn how to do the various poses safely, correctly and in the easiest way.
Finally, Dina decided to take a 200 hour Yoga Alliance for Hatha Yoga Teacher Training
at Prajna Yoga with Master Pooja and Master Kishore and later also a 100 hour
Yin Yoga Teacher Training. Also completed 30Hrs Wheel & Chair TTC in 2021 and 300hrs Advanced Hatha Teacher Training in 2022.
As a Yoga teacher Dina loves to create a positive group atmosphere in the class with emphasis
on letting students move more freely and learn with passion and enthusiasm.
In her own words: "My focus is all about helping my students get the most out of their yoga experience. I wish to help my students find the healing power of yoga: to become happy, energized, to find peace of mind – as well as to become strong and flexible. I try to help each of my students individually to overcome difficulties, so they see steady progress in their yoga training and to share my knowledge and experiences learned from my own journey."
Dina Teaches:
Hatha Yoga
Yin yoga
Gentle Yoga
Yoga Stretch
Balance Yoga
Wheel Yoga
Yin Yang Yoga
Hatha Flow