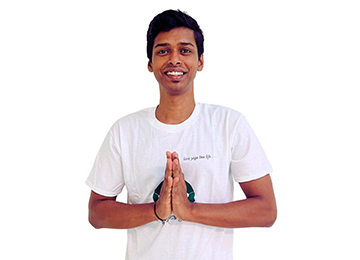 As a kid who often goes to hospital due to low immunity, his parents came to know about yoga and made him to join classes in the year 1999 under his teacher yoga Kalaimamani Radhakrishan for 15 years. Yoga helped to cure his illness and he continued to practice advance yoga to participate in yoga competitions.
After his college degree in computers he started to work in IT field but his passion towards yoga made him as a yoga teacher. He never stop learning so he traveled around southern India and gain knowledge in yoga as well as teaching. He also practice ashtanga yoga and a certified ashtanga vinyasa teacher too. His classes mostly focused on flexibility, Hip opening, balance, inversion, stability. He has good knowledge about alignment and anatomical benefits of body.
Awards & Achievements:
Yoga Nakshatra
Yoga siromani
District level championship
State level championship
Qualifications & Certifications:
Diploma in yoga and naturopathy from Tamilnadu Physical education and Sports University
Masters in computer application from Madras University
Masters in yoga for human excellence from Tamilnadu Physical education and Sports University
Sivananda Yoga teacher training from neyyar dam, Kerala
Certified yoga coach from Sports Authority of India
Ashtanga vinyasa yoga teacher training from Dr. Ramesh Shetty ashtanga yoga shala, Mysore.
Ajay Teaches:
Hatha Yoga
Hatha vinyasa
Sivananda Yoga
Ashtanga vinyasa yoga
Asana Pranayama and Meditation
Wheel yoga
Chair Yoga
Aerial Yoga