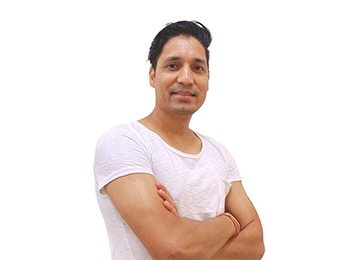 Born in Garhwal Himalaya
18 years of vast yoga experience of teaching & managing Yoga studios in south east asia (Singapore, Malaysia, Macau, Vietnam, Indonesian & China).
He has strong hold and experts in Functional anatomy, Traditional yoga, Yoga Teachers training, Yoga therapy Hatha yoga & Vinyasa.
Abtar holds a Bachelor degree in Physical Education, Bachelor of Science and a Post Graduate Diploma in Yogic Sciences, level 1 certificate in kinesis taping and he is also initiated into Himalayan meditation tradition by Swami Veda Bharati.
Abtar seeks to convey the spiritual and physical benefits of Yoga and to promote the benefits of Yoga for a healthy lifestyle option and as a system of natural healing. He tells his students that when you practice Yoga you have time to explore and get in tune with your body. You can feel when to stop and when to move into a posture. This non-competitive nature of yoga is what makes yoga different from any other form of exercise.
Abtar has taught to both Eastern and Western audiences and takes great satisfaction in seeing his students advance in Yoga.
Experience:
Previously worked in Singapore, Malaysia, Macau, Vietnam, Indonesian & China
Expertise in Yoga teachers Training, Functional anatomy, Hatha Yoga, Functional Yoga , Vinyasa , Traditional Hatha & Yoga therapy .
Abtar Teaches:
Hatha Yoga

Gentle Yoga

Functional Mobility

Power Yoga
Shoulder and Back Care
Core Yoga
Beginner Vinyasa
Dynamic Surya
Vinyasa Flex